St Barnabas has been part of the Gorse Hill community since 1885. Over the years we have welcomed many people for worship, prayer and reflection, or to participate in the many groups and activities that take place within our buildings. 
The church building is a place of worship, memory and community; a place where the stories of local people can be found in works of art, records and memorials, or in activities and conversations.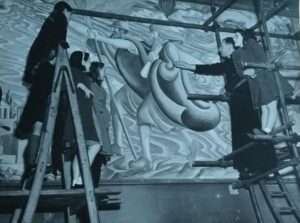 Of particular note are the colourful murals painted by Fr John Perret in the 1940s which depict the missionary journey of St Barnabas and St Paul as well as the offerings of worship from hardworking Swindonians. 
The church holds a number of tributes to the fallen from both World Wars. These include a wall plaque listing the names of those lost from the local area; two stained glass windows and a wall tablet in memory of individual soldiers; as well as a hanging rood/sculpture of Jesus on the cross inscribed with the words, 'My Peace I Give to You'.
Just as Gorse Hill has changed and developed over time, so too has St Barnabas. Wooden pews have been replaced by comfy chairs, an area has been created to serve refreshments in church, and we also have an activity space for children to use during services. A projector screen is another useful addition which helps us to better serve our local community. A unique feature of our worship today is a service led in British Sign Language once a month.
Fans of stained glass will be interested to view the series of windows dedicated to the 12 apostles, as well as the circular window depicting the crossing of the Red Sea which was designed by the architect of this building, John Pollard Seddon. 
You are warmly invited to discover more by visiting the church, and so contribute in your own way to the development of our community.